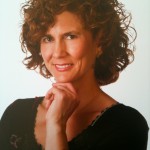 Ana I. Moreno received a PhD. in English Philology from the University of León in 1995, her doctoral thesis being supervised by Dr. John Hyde (Universidad de Salamanca). She also holds a Diploma in Teacher Training in Spanish and English from the University of León (Spain, 1986) and a B.A. in English Philology from the University of Salamanca (Spain, 1990). She got tenure at the Departamento de Filología Moderna (Universidad de León) in 1996. In 2007-2009, she was a researcher at Madrid's Centro de Ciencias Humanas y Sociales (CCHS), a part of the Spanish National Research Council (CSIC). She is back at the University of León, where she is a tenured senior lecturer and the Director of the ENEIDA research group (the Spanish Team for Intercultural Studies on Academic Discourse).
At the University of León, she has lectured in English Grammar, English Discourse Analysis and Pragmatics and English for Specific Purposes in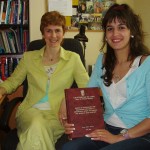 the degree in English Philology. She has also taught practical undergraduate courses in English for Agriculture, General Business English, English for Specific Business Purposes, and General English and English for General Academic Purposes at various levels in various degrees at the university. She is currently responsible for the course in Discourse Analysis for Language Teachers within the Masters' degree in Teacher Training (for teachers at secondary schools, official schools of languages and vocational training schools). Her teaching  has also included various doctoral courses in Cohesion in English and in Research methods in English-Spanish cross-cultural studies within the Quality Doctoral Programme in Intercultural Studies and Translation offered by the Departamento de Filología Moderna at this university. Ana Moreno has supervised  Lorena Suárez' doctoral thesis (2005) and various doctoral research projects and master's dissertations.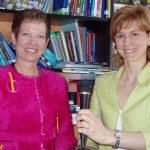 The last five editions of the doctoral course in Research Methods in English/Spanish Crosscultural Studies, which Ana Moreno coordinated, were in collaboration with Ulla Connor, Professor in Intercultural Communication at Indiana University-Purdue University, Indianapolis. As a result of this collaboration, Ulla Connor and Ana Moreno have co-authored a book chapter on tertium comparationis published in 2005 in honor of Robert B. Kaplan. Their collaboration for the design of a set of general principles for conducting research studies to be applied to Intercultural Rhetoric has also been reflected in a recent book by Connor (2011). Intercultural Rhetoric in the Writing Classroom. Michigan series on teaching multiligual writers. Ann Arbor: The University of Michigan Press.
Ana Moreno has been a visiting scholar both for teaching and research purposes at various institutions: the Centre for  Advanced Research in English (The University of Birmingham, 1992, 1993), the English Language Institute (The University of Michigan, 1995, with a Morley scholarship), the Department of English and Media Studies (The Nottingham-Trent University, 1996), the Program in English as a Second Language (Penn State University, 1998), the Department of Applied Linguistics (The University of London, 1999, 2001, 2002, 2004, 2005, 2006), the Indiana Centre for Intercultural Communication (Indiana University-Perdue University, 2002) and the Departamento de Filología Inglesa (Universidad Complutense de Madrid, 2006).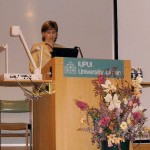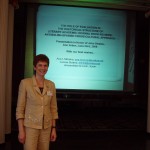 She has been invited to give keynote, plenary or featured presentations, seminars or workshops on various occasions and has organised panel discussions at various universities and conferences, both national and international. Including conference paper presentations, she has participated in 38 research conferences or workshops, 19 national and 19 international. In 2001 she was the coordinator of the successful 21st AESLA (Spanish Association for Applied Linguistics) Conference.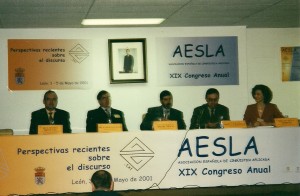 Ana Moreno has carried out various needs analyses for teaching English (for General Purposes, for Business Purposes, for General Academic Purposes and for Research Publication Purposes) and has made contributions to theories of writing instruction and reading comprehension, as well as to the field of contrastive rhetoric, a key field of study in second/foreign language acquisition/learning. Most of her work has aimed to give an intercultural (Spanish/English) perspective on scientific and academic discourse with a view to improving the teaching/learning of English for academic purposes by bringing in Spanish/English crosscultural information about academic writing. 
Based on the premise that academic writing practices and outcomes are also strongly affected by socioculturally-shaped and embeded expectations and teaching practices, she has developed rigorous and systematic methods to empirically uncover recurrent differences (and similarities) in the rhetorical organization and the stylistic preferences shown by scholars writing in English and in Spanish (as L1s) for academic purposes. As an applied linguist, she has drawn on multiple theoretical frameworks to address her research concerns: general communication theories, pragmatics, discourse and genre analytical frameworks, functional linguistics, as well as theories of language teaching and learning. She has also used corpus linguistics techniques (paying special attention to the compilation of comparable Spanish/English academic corpora) and ethnographically-oriented methods. Her work has mainly focussed on cohesion and coherence, metadiscourse, evaluation in discourse and rhetorical structure.
Her publications in the field of contrastive rhetoric have appeared in such journals as Text, English for Specific Purposes, International Journal of English Studies, Journal of English for Academic Purposes and Text&Talk, as well as in specialised collective volumes on applied linguistics, contrastive rhetoric, interpersonality in academic discourse, academic evaluation, criticism in scholarly writing, and English for professional and academic purposes. Her research results in this field have implications for those teaching academic writing or anyone writing, working with, or translating academic English and Spanish texts (L1/L2).
Having shown differences in various aspects of rhetoric and style across various Spanish and English comparable academic writing cultures, Ana Moreno is now seeking to determine the most typical writing problems that prevent Spanish researchers from getting their research articles accepted for publication in international scientific journals (see Moreno 2010). This will allow her future studies to focus on real and relevant textual problems that Spanish scholars tend to have when writing in English for an international audience. One of her aims is to establish which of the revisions that Spanish academic writers need to make in order for their texts to be successful across cultures may be explained in terms of the Contrastive Rhetoric Hypothesis so that relevant crosscultural results may be brought into practical teaching applications specifically designed for them.
By paying greater attention to the sociocultural and educational practices leading to differences in scholars' writing practices and outcomes across cultures, her research is steadily moving towards Intercultural Rhetoric. As she explains in her entry for The Encyclopedia of Applied Linguistics (Moreno forthcoming, 2012), Intercultural Rhetoric (IR) is a research field that seeks to identify and explain some of the rhetorical and stylistic accommodations that multilingual writers need to make in order to achieve their communication goals interculturally.
Ana Moreno has participated in various research projects and is a member of a number of research groups. She has served on the editorial board of Lingüística y Lenguas Aplicadas and still serves on the editorial board of IBERICA, a major journal in Languages for Specific purposes. She has also reviewed research articles for other major journals in applied linguistics, including English for Specific Purposes, Journal of English for Academic Purposes, and TextandTalk.